This week, I have been watching my bougainvillea dance.
Up north, I planted a dozen kinds of iris in my perennial garden. In Florida, I am having a love affair with the bougainvillea. This is an interesting plant, often growing to 30 feet high in my neighborhood and, at some times of the year, covered with a multitude of small red or coral flowers. Of course, mine are only a foot high now, but gardeners are patient and optimistic people.
The bougainvillea flower has three petals, each about an inch and a half long and almost paper like in appearance. The searing Florida sun makes them absolutely glow, while they do a fluttering, swaying dance in the coastal breezes. I can watch them for hours.
How do I now translate this visual experience in paint on canvas? I mulled this over for a few days, and then sat down to work. I would like to capture the glow and delicacy of this plant in a large scale, perhaps 40 by 30 inches. However, to plan out the complexity of the composition, as well as the colors and value scale, I felt I had better do a smaller study first.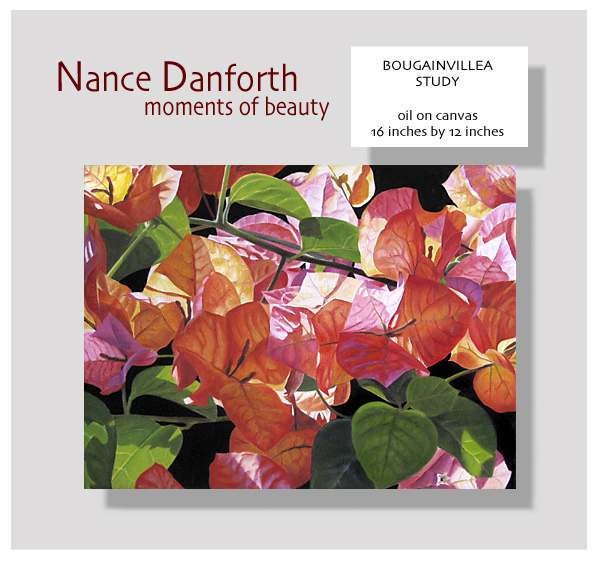 oil on canvas
12 x 16 x .75
sold