I

t's been a busy couple of weeks while this piece was being painted. Working this large is always very exciting to me. It gives me a chance to really move paint around, and to put down details and delicate shadings that are more difficult in a smaller format. The process is slow, something like watching a jigsaw puzzle come together one section at a time. And, by day three, I begin to really feel the results of stretching to reach around the large canvas and of standing for long periods of time.
I have to admit that I feel a sense of relief that this painting is now almost done. Just a few details to correct and some glazing to do. So, I took some time off today to enjoy the day and sit in the sun. The Florida weather was just perfect for cloud watching.
While sitting in the garden, I noticed how splendidly the desert rose is flowering. So, off I went to get my camera. Another painting begins the design stage.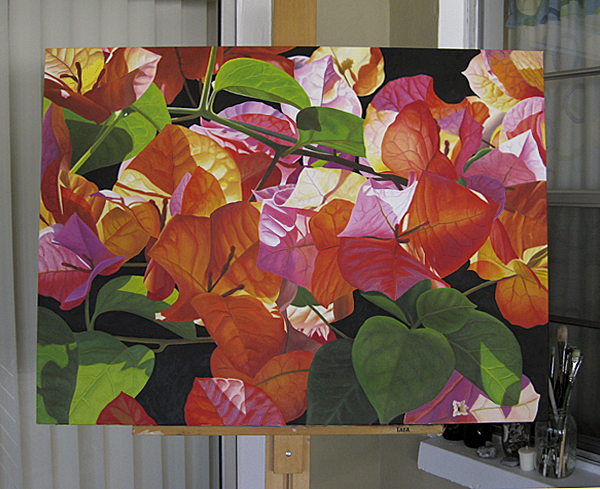 Bougainvillea
oil on canvas
30 x 40 x 1.5
Available from the artist